Welcome to Episode 17 of the Thin Places Travel Podcast. This episode features Brittany France – an area of mystery and legend with one of the largest collections of pre-Christian monuments in Europe. Our guest today is author and Brittany expert, Wendy Mewes.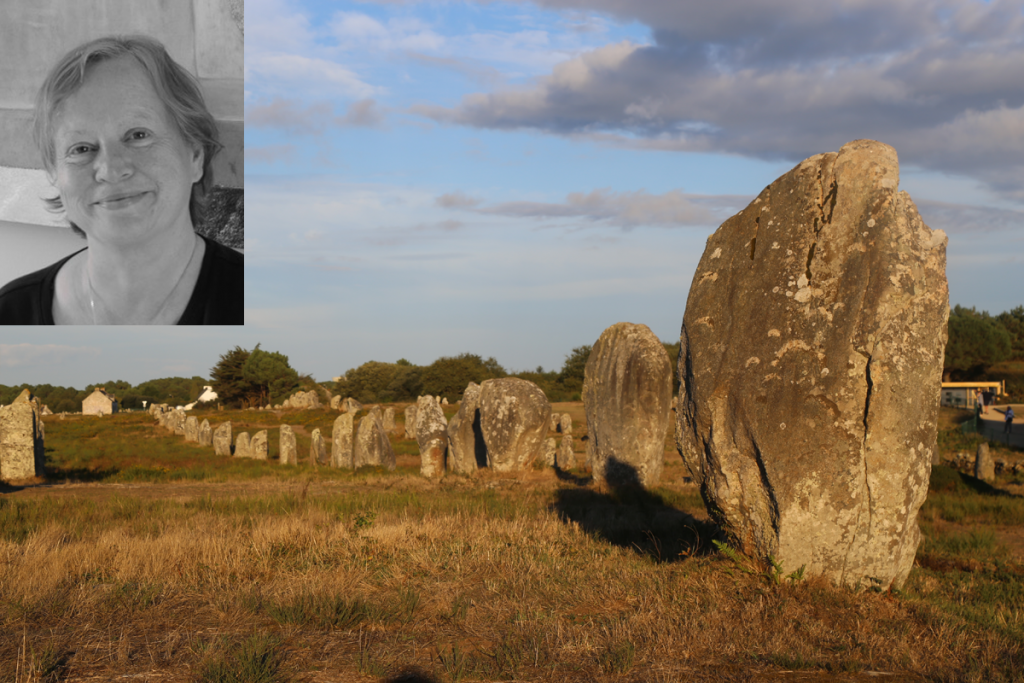 Brittany France Destinations
Welcome to Episode 17 of the Thin Places Travel Podcast. This episode features Brittany France – an area with one of the largest collections of pre-Christian monuments in Europe. And these monuments are the run of the mill dolmens or passage tombs. The monuments in Brittany, in many instances, predate those in Ireland and the UK. Many believe the people who created the first of the monuments in Ireland and the UK came from Brittany. It was the Breton culture that established this pattern of erecting these ancient monuments.
We are so lucky to have the Brittany expert, Wendy Mewes on the podcast today. If you search the internet for guides in Brittany or books written on the ancient Breton landscape, you will find Wendy's name and her website…. Wendymewes.com
She is a prolific writer and lecturer. On her website, she has a quote that reads, "My personal identity lies in the landscape." Her books and writing speak to the concept that the landscape is alive and that there is an inherent "sense of place" unique to the Breton landscape. Wendy lives in Finistere – with its deep forests, sweeping shorelines and ancient stones – an amazing place for walking.

Wendy has a background in ancient history, she is the author of numerous books about Brittany, and her articles have appeared widely in the press. In France, she has been filmed for TV and contributed to radio broadcasts on historical subjects. She has worked extensively in promoting Breton history and culture to English-speaking visitors through talks, courses, and guided visits.
Wendy now concentrates on landscape writing, most recently with Spirit of Place in Finistere (2017). She is currently working on two new books: one about the Breton saints and the other on walking ancient paths in the region.
Now … on to our interview with Wendy.
Interview with Wendy Mewes
1. What is it about BRITTANY that is most compelling?
Brittany has a very beautiful and unspoilt landscape, full of hidden sites beyond linear time where eternal elementals still share their presence. It also triumphs in economies of scale with a wide variety of natural surroundings – secret river valleys, open moorland, deep forest, wild coast – within a relatively short distance. Many point to the power of granite, a stone forged from fire, for the strong atmosphere – it seems to affect people both well and badly! There is nothing excessive here: the scale of Brittany is so in tune with human scale that one can perfectly identify with the environment.
2. What is the background – history of the site or topic?
Brittany was well-populated in the Neolithic period and has the greatest density of megaliths in Europe, with standing-stones and burial chambers widespread. These sacred places continued to be revered by succeeding Bronze and Iron Age inhabitants. The arrival of Celtic Christianity with evangelists from Great Britain after the fall of the Roman Empire saw many of these sites taken over and Christianised in the rivalry between Nature and God.
3. Are there any legends or mythology tied to the site or topic?
Brittany is the home of a vast treasury of legend, especially in the Celtic oral tradition. The megaliths in particular have their own stories of origin (usually involving giants or fairies), and there are hundreds of varieties of little people active in the landscape, as well as countless tales of the Breton saints with all their miracles and triumphs. One of the striking themes of oral culture here is the ubiquitous presence of Death (personified by Ankou, the Grim reaper).
4. Do you think those stories have a deeper meaning?
Stories inevitably spring from humans' interest in themselves and our need for explanation and 'certainty'. Many legends are self-referential and self-reverential. Often they resign us to our lack of control over life and death, making chaos less frightening. Here in Brittany they often reflect the early foundations of society as well as universal experiences. We look for intermediaries and intercession. Is it possible to pull back the curtain of culture and see a deeper state of being beyond? When you can reach out to landscape as a living thing rather than human being, magic can happen.
5. What surprises travellers about the site? …. something one wouldn't expect?
Visitors to Brittany are often surprised by the continuing power of oral culture today and the manifest pride in local heritage at all levels of society. Native language and traditional costumes are distinctive. Sacred processions, pilgrimages and boundary-walking (based on legend) still tie people to the land, and memory is regarded as a vibrant tool to preserve the past and animate the future.
6. What are your thoughts on thin places or liminal places where the physical and spiritual worlds seem to cross?
For me personally these are usually places where the elements of earth (stone), air and water combine in a special harmony. Often it is necessary to get through the cultural filter to a purer state in order to feel oneself absolutely part of the natural world and truly alive.
7. What advice would you give to a traveler who is seeking out thin places or sites with spiritual energy?
The megaliths are a tangible target and for many people a conduit to spiritual energy, but don't neglect places were there is no hand of man on display: the granite boulders in a wide forest, the changes on a tidal shore, the hill-tops on the heath…
Information on Wendy Mewes and her books
Wendy's Books:
Discovering the History of Brittany
FIND WENDY MEWES:
Twitter: @brittanyexpert
Mindie on Brittany Sites
PARIS to MOUNT ST-MICHEL
Go late – arrive at 4pm or there abouts. Check the tides.
Spend the night
Awesome things to do in Finistere
Parish Closes – Parish Close at Saint-Thégonnec blog post by Mindie Burgoyne
Beaches – Côte Savage – Menhirs
Woodlands – Huelgoat, stones, forest walks, town.
Rive Café Librairie – Hotel restaurant – Restaurant de Bretagne, very good food.
Butter — to die for. Baguettes, pastries, coffees – all good.
Menhirs – Ty Hir Gite
I See Hearts in Brittany – Menhir De Goalennac blog post by Mindie Burgoyne
Wedge tombs (Alley grave)
The Monts D'Arree
Quote from Wendy Mewes' book, Things to See and Do in the Monts D'Arrée
The eerie landscape of trelless jutting crags, moors, peat-bogs and a misty bowl of marsh around the reservoir Lac St-Michel give a memorable impression of stark wilderness and is fittingly the source of many Breton legends
Mindie discusses 2019 Group Tours
By the time this podcast launches, I will be leading two group tours in Ireland. So for a total of three weeks, I'm not only away from my desk and podcasting equipment, I'm also under the pressures of managing a group tour.
Before I left I tried very hard to get the information about our 2019 tours launched and published on the website. They are set, but I'm still refining the details. So for those of you who are interested, I will be leading three group tours to thin places and one group tour for Mind, Body, Spirit Travel.
The first tour will be Scotland – The Western Isles. May 10 – 21 (11 days 10 nights)
The second tour will be the Mind, Body, Spirit Tour – a group tour to Newfoundland and Labrador. Dates for that tour are June 22 – July 1 We will tour the upper peninsula and the lower ridge of Labrador visiting 3 world heritage sites and some of the most awesome scenery in North America.
Third tour will be Discover the North in Ireland – September 8 to the 17th –
The fourth tour will be immediately after that one – The Hags Journey – a tour of Western Ireland focusing on heroic Irish feminine figures – saints and goddesses.
I intend to post something on the website http://thinplacestour.com about this so people can make note of the dates.
Next Episode – 18 Kinstone with Kristine Beck
Thank you for listening to the Thin Places Travel Podcast. You can find us on the web at thinplacespodcast.com. You can also find me on twitter at @travelhags and facebook.com/thinplaces.
And if you enjoyed this episode, please give us quick rating and review on iTunes –and consider subscribing, In our next episode, our guest will be Kristine Beck, a woman who has crafted her own stone circle and monument structures similar to the ancient monuments on her Wisconsin farm. Her complex is known as Kinstone and it's a thin place in the USA. So long, for now.