Welcome to Episode 10 of the Thin Places Travel Podcast. In this episode, we'll be talking to Mary Reynolds, reformed landscape designer and nature activist who wrote the book The Garden Awakening: Designs to Nurture Our Land and Ourselves, and who also is the subject of the movie Dare to be Wild.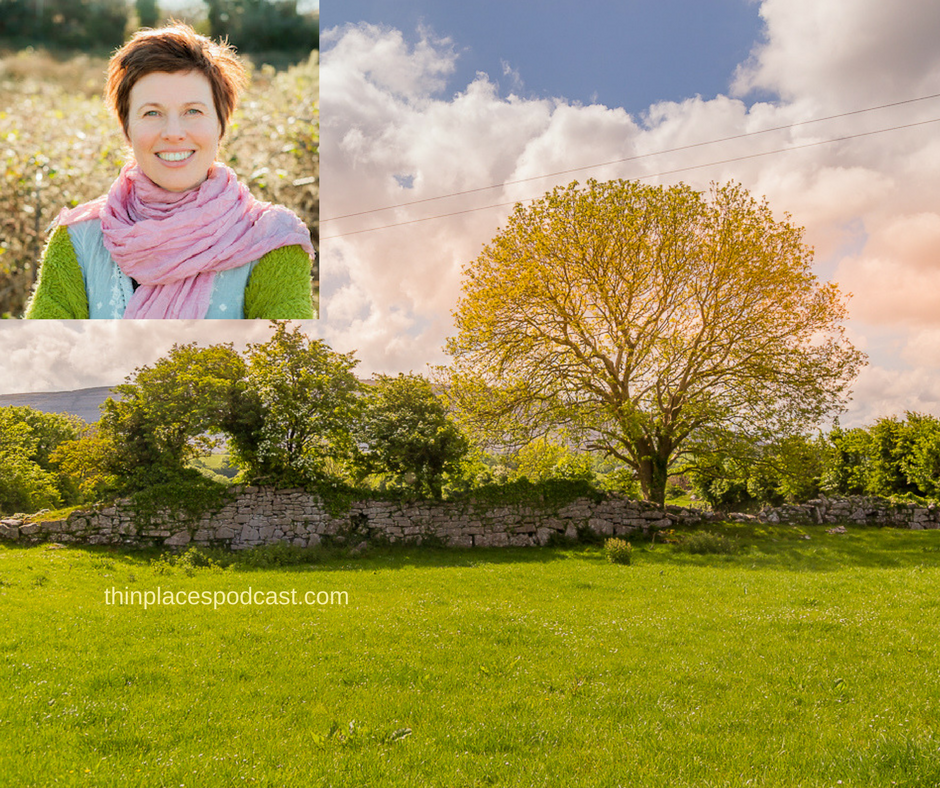 THIN PLACES TRAVEL PODCAST
#010 Awaken the Land – with Mary Reynolds
Host – Mindie Burgoyne
Guests – Mary Reynolds – Nature Activist, Garden Designer, Author
SUBSCRIBE iTunes | Stitcher | iHeart Radio | GooglePlay
Mary Reynolds – Reformed Landscape Designer and Nature Activist from County Wexford
I am so delighted to have Mary Reynolds on the podcast today. Mary is quite an extraordinary person. She's a garden designer, a philosopher – a writer. She is the youngest woman to win a Gold Medal for garden design at the Chelsea Flower Show – since its inception over 100 years ago.
Mary grew up on a small mixed farm in Wexford, in the south of Ireland. 20 years ago she set up her own company designing gardens in Dublin. A few years later, having lost the will to live from constantly creating modern gardens, she realized that she could no longer continue shaping land in the same way and re-imagined her work to become nature rather than human-centered.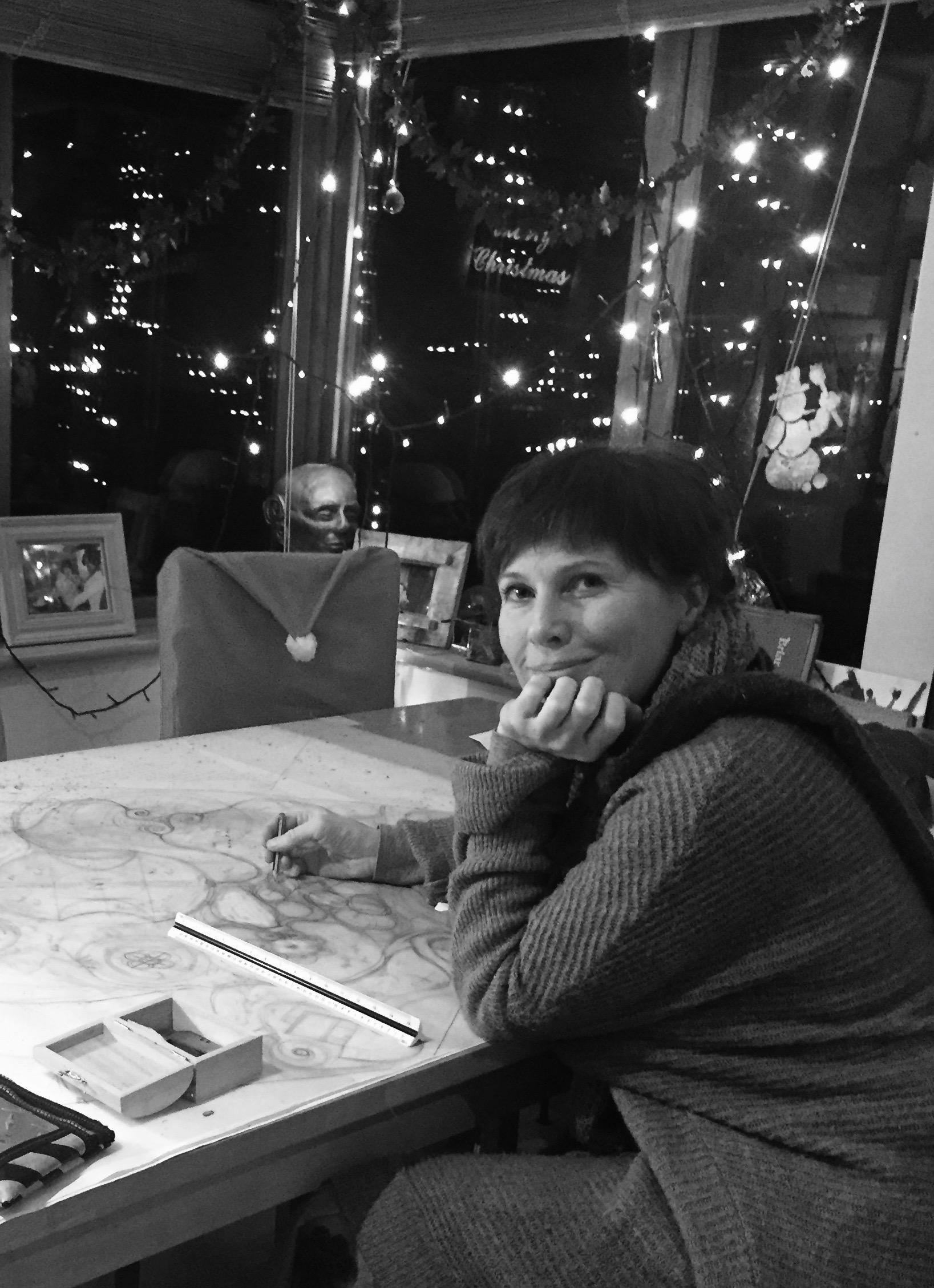 Mary brought her new, still relatively unformed ideas to be showcased at the Chelsea flower show in London where she achieved a gold medal, unusual at the time for a first-time effort. Since that time, she has built up quite a cult following in the world of garden design and is considered unique in her field.
Another U-turn came a few years ago when Mary realized we had to rethink the whole relationship we had with the land and re-examine what it means to truly design in harmony with nature. Those latest revelations lead to 'The Garden Awakening – Designs to Nurture Our Land and Ourselves' being born, which imparts so much wisdom to people who are fashioning their own gardens and wild places.
The book was written at night, over four years, when her two young kids were asleep… and Mary was almost awake. It was published in 2016. The book was given a video accolade by British anthropologist, Jane Goodall.
Mary has appeared on numerous television programs, podcasts. She offers talks and workshops about her work she does and her core beliefs. and she likes to campaign against evil multinational efforts to cull us all off with pesticides, herbicides, and GMO's. Her views are wonderfully articulated in a TEDx Talk that we've posted in the show notes.
Mary is trained as a Reiki master, and … in her own words – is not a bad cook (to her mother's eternal surprise) Mary states that she spends a lot of time growing and guiding her own land into a place where people can come and stay and learn, but most of her time is spent being a harassed single mum, trying to grow two cheeky but wonderful boy and girl monsters and a crazy golden-doodle with as much grace and love as possible.
Dare to Be Wild Movie
The Irish writer and director Vivienne De Courcy made a movie about a journey in Mary's life – Dare to be Wild, released in 2014 – now available on Netflix. In the final credits of that film, there is a statement that Mary Reynolds is listed as one of the 10 best garden designers of all time.
Mary Reynolds Interview
Mary Reynolds website marymary.ie
Skype maryreynoldsireland
The Garden Awakening – book by Mary Reynolds
Dare to Be Wild – Movie about Mary Reynolds written and directed by Vivienne De Courcy
Meet the Makers – YouTube video by Irish National Heritage Park
The Chelsea Flower Show – website
Wicklow Sites
Mindie highlights thin places and not-so-thin places in southern County Wicklow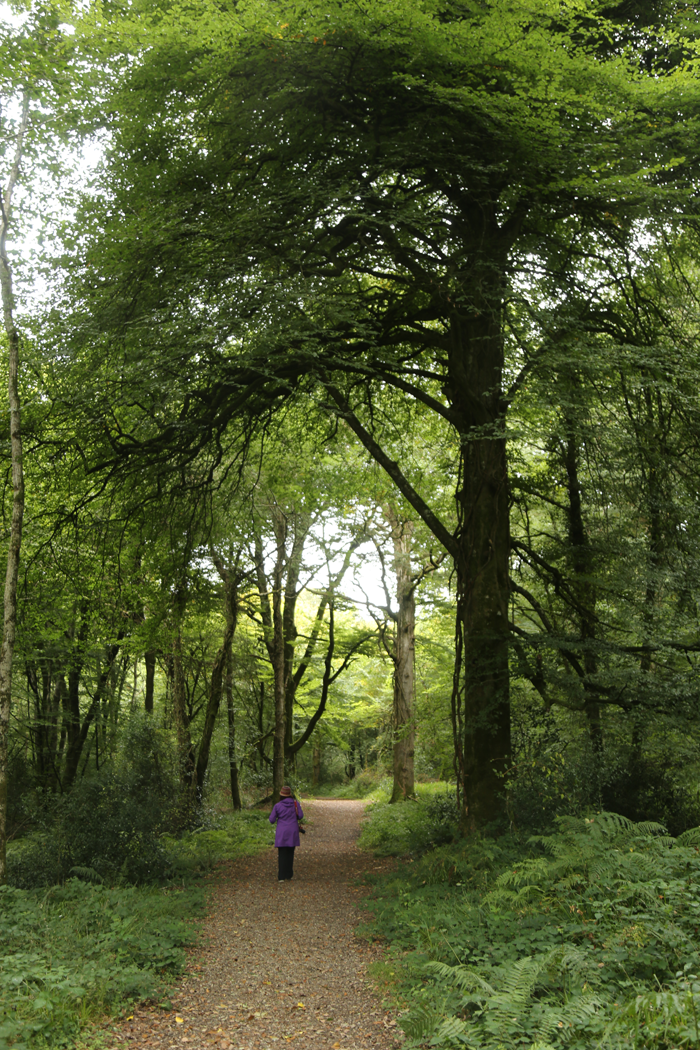 Tomnafinnoge Wood – ancient woodland
Last remaining native oak woodland in Ireland.
Last surviving fragment of the Great Oak forests in South Wicklow – believe to have covered 1000 acres in the 15th century. Widely exploited during the 16th century when the British were building warships.
Today it has about 2000 trees and covers about 165 acres. 3 different marked trails. The Oak Walk and the Hazel Walk are both looped and easy to navigate.
Though it sits along the old rail bed and there is signage marking the trails, the woodland has a strong energy about it. It feels wilder as you move into it and away from the river and railbed.
It's not easy to find. From Tinahely head south on the R749. Pass the Tinahely Farm and at the next crossroad make a left. The signage says to Coolboy and Tomnafinnoge Wood. Down that road about a mile is the car park for the wood entrance.
Tinahely Farm Shop
Great place to stop for lunch, farm demonstration and shop with locally sourced food and crafts
Shillelagh – Old Shillelagh Stick Makers.
Shillelaghs still being handcrafted today.
Run by Liam Kealy
Great Grandfather Denis passed the skill to Liam's father, and he on to Liam. The family has a long history of craftsmen.
Making a shillelagh from blackthorn is a three-year process. Great storyteller. Interesting craftsman. Sticks and wands of various sizes mostly made of blackthorn or oak.
LINKS
Shillelagh Stick Maker, Liam O' Caidhla
Conclusion
Thank you for listening to the Thin Places Travel Podcast. You can find us on the web at thinplacespodcast.com. You can also find me on twitter at @travelhags and facebook.com/thinplaces.
And if you enjoyed this episode, please give us quick rating and review on iTunes –and consider subscribing, In our next episode, our guest will be Martin Byrne a writer, musician and tour guide specializing in sacred Ireland.