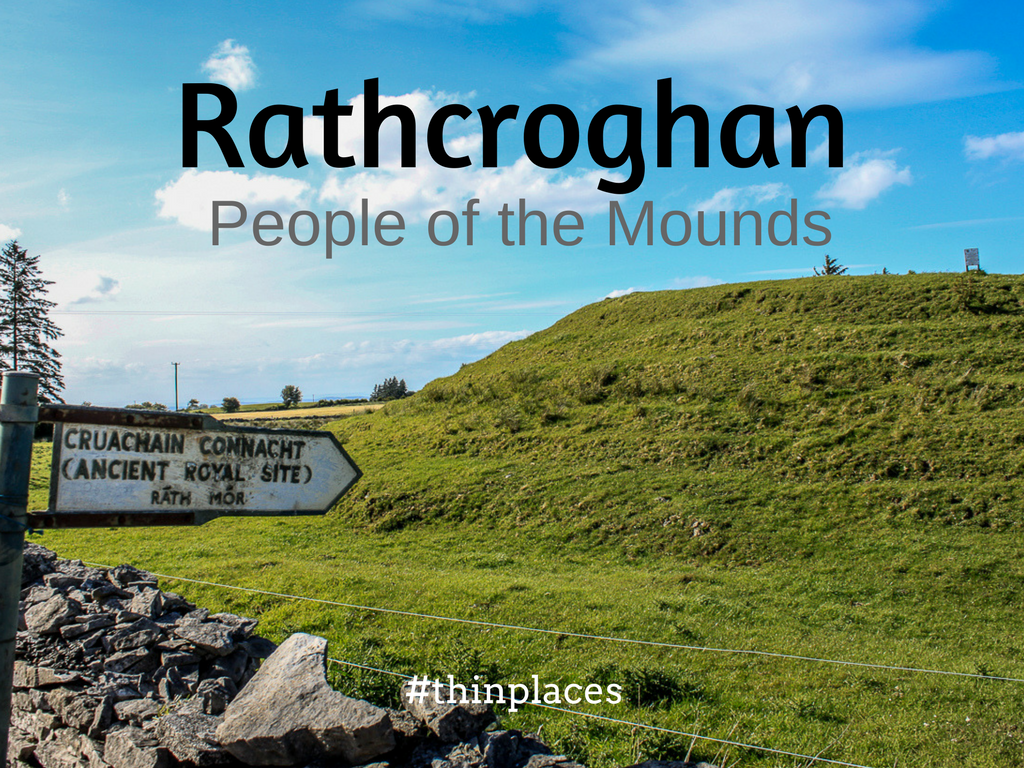 [podcast src="https://html5-player.libsyn.com/embed/episode/id/6232201/height/90/theme/custom/autoplay/no/autonext/no/thumbnail/yes/preload/no/no_addthis/no/direction/forward/render-playlist/no/custom-color/f8aedf/" height="90″ width="100%" placement="top" theme="custom"]
THIN PLACES TRAVEL PODCAST
#003 Rathcroghan and the People of the Mounds
Host – Mindie Burgoyne
Guest – Mike Croghan
SUBSCRIBE iTunes | Stitcher | iHeart Radio | GooglePlay
Mindie on Rathcroghan
Rathcroghan is a complex of 240 archaeological sites that includes 60 national monuments that are spread out in a tract of land that is about 4 square miles. The sites range from Neolithic (5-7000 BC) to Medieval periods 5th – 15th centuries). On the site, there are burial mounds, ring forts, enclosures, linear earthworks (roads / trails) and very special cave.
Rathcroghan is located near the village of Tulsk in County Roscommon. It's known to be a royal site – the ancient capital of the province of Connaught.
We talked a little bit about royal sites in the last podcast. These would have been sites of ritual and gathering. … sites of massive deposits of human emotion and energy. That human energy connected to the natural elemental energy of the land becomes something greater than the sum of its parts.
I believe that human emotion and the energy it creates can impact energy of a place. Perhaps there was an inherent energy in the land that drew people –knowingly or unknowingly to mark out a sacred site. And as the human rituals and gatherings imprinted their own energy on the existing high energy of a place – a thin place is born.
Rathcroghan is a thin place
Guest Interview – Mike Croghan
We are lucky today to have Mike Croghan who lives there, talk with us today about this special site Mike and his father are the last Croghans to live on Rathcroghan. They are a farming family. Mike also leads tours to sacred and archaeological sites in Western Ireland. He's also a professional photographer and does a lot of aerial filming.
Rathcroghan Tours – tours by Mike Croghan
Please note that the other two websites mentioned (raven.photo and airview.ie are no longer available)
Mindie Recommends – Leprechaun Museum, Dublin
I'm going to end this podcast with a recommendation for you. The Leprechaun Museum in Dublin. Open daily, staffed by trained storytellers who are passionate about Irish mythology, tradition and understanding of the otherworld. Open Daily 10 :30 am to 6pm. Guided tours and awesome interpretive displays that focus on the people of the Sidhe and Irish folklore. Also, open at night – Friday and Saturday for the Darkland tour – twisted tales from the darker side of Ireland. About 16 EUR to get in. Quality entertainment.
Leprechaun Museum – Dublin
Leprechauns: Facts About the Irish Trickster Fairy
Conclusion
Thank you for listening to the Thin Places Travel Podcast. If you have questions, thoughts, travel stories or sites you'd like us to feature on this podcast, you can find us on the web at thinplacespodcast.com. Just click the contact link. You can also find me on twitter at @travelhags and on Facebook at facebook.com/thinplaces.
If you'd like more information on our tours, you can visit our website at thinplacestour.com. And if you enjoyed this episode, please give us quick rating and review on iTunes – under Thin Places Travel Podcast., and consider subscribing.
Thin Places Tours Thin Places Blog Travel Hag Blog
Other Links of Interest
Top Things to Do in Co, Roscommon
Lough Key Forest & Activity Park
Clonalis House
Boyle Abbey
Arigna Mining Experience
Electric Bike Trails
Lough Key Boats
King House
Strokestown Park
O'Carolan Harp Festival
Roscommon Drama Festival
Roscommon Lamb Festival
Lough Gara Lakes & Legends
Roscommon Arts Centre
Les Petites Tartres
Regan's Gastro Pub
MoMA Restaurant
The Yew Tree Lecarrow